It is almost that time again and if you are anything like me, you are somewhat (read totally) lost as to what to get your kiddo or other kids on your list for Christmas. I used to try to rely on wish lists and dropped hints but my kid sometimes changes what she really, really wants from day-to-day, so I find the lists and clues to be somewhat unreliable. Also, I am attempting the 4 Gift Rule this year which is:
1. Something they want
2. Something they need
3. Something to wear
4. Something to read.
I am pretty sure that I can  stick to this rule, I just need to find Gift 1. Something she wants. Luckily, numbers 2 and 3 are my specialties, and also so is number 4…something to read.
Hence this post.
It is not that I cannot find her anything to read, the exact opposite is true. My biggest challenge is going to be only getting 1 book for her to read. I have said it before and I will say it again, this is such a great time to be a person, specifically a kid, who loves to read! There are so many great books out there by so many great authors with so many different stories to tell, it seems almost magical! I know for me, after reading a really good book, I have this urgent need to read something else. I immediately log into Good Reads or Amazon looking for another book by the same author or a similar story so that I can stay on that reading high that my last book took me on. There's nothing like it! The best thing to me is reading a really good book only to find out that it is part of a series, and I may be wrong, but I assume that winning the lottery has the same kind of feeling as this discovery. 🙂
This Christmas, give your reader or other readers on your list the same feeling of excitement with some of these great box sets.
Mercy Watson Boxed Set: Adventures of a Porcine Wonder
This set includes: Mercy Watson to the Rescue, Mercy Watson Goes for a Ride, Mercy Watson Fights Crime, Mercy Watson: Princee in Disguise, Mercy Watson Thinks Like a Pig, and Mercy Watson: Something Wonky This Way Comes
Suggested for ages: 5-8
Amelia Bedelia Chapter Book 10-Book Box Set
This set includes: Amelia Bedelia Means Business, Amelia Bedelia Unleashed, Amelia Bedelia Road Trip!, Amelia Bedelia Goes Wild!, Amelia Bedelia Shapes Up, Amelia Bedelia Cleans Up, Amelia Bedelia Sets Sail, Amelia Bedelia Dances Off, Amelia Bedelia on the Job, and Amelia Bedelia Ties the Knot. Also includes a collectible full-color bookmark!
Suggested for ages: 6-10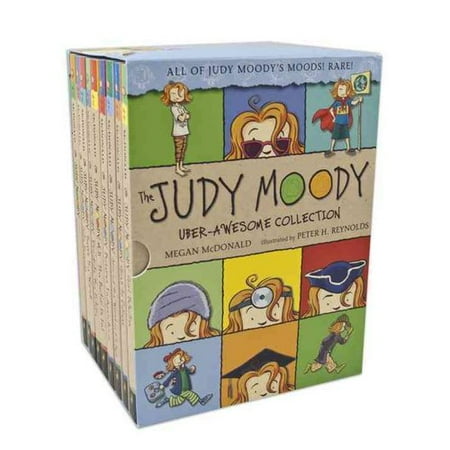 The Judy Moody Uber Awesome Collection: Books 1-9
This set includes: Judy Moody, Judy Moody Gets Famous, Judy Moody Saves the World!, Judy Moody Predicts the Future, Judy Moody, MD.:The Doctor is In!, Judy Moody Declares Independence, Judy Moody Around the World in 8 and 189 Days, Judy Moody Goes to College, and Judy Moody, Girl Detective.
Suggested for ages: 6-9
This set includes: The Field Guide , The Seeing Stone, Lucinda's Secret, The Ironwood Tree, and The Wrath of Mulgrath
Suggested for: ages 6-10
A Series of Unfortunate Events Boxed Set: The Complete Wreck (1-13)
This set includes:  The Bad Beginning, The Reptile Room, The Wide Window, The Miserable Mill, The Austere Academy, The Ersatz Elevator, The Vile Village, The Hostile Hospital, The Carnivorous Carnival, The Slippery Slope, The Crim Crotto, and The Penul Timate Peril
Suggested for ages: 8 and up
The Complete Ramona Collection
This set includes: Beezus and Ramona, Ramona and Her Father, Ramona and Her Mother, Ramona Quimby, Age 8, Ramona Forever, Ramona the Brave, Ramona the Pest, Ramona's World
Suggested for ages: 8-12
This set includes: Tales of a Fourth Grade Nothing, Otherwise Known as Sheila the Great, Superfudge, Fudge-a-Mania, and Double Fudge
Suggested for ages: 8-12
This set includes: Are You There, God? It's Me, Margaret; Blubber; Deenie; Iggie's House; It's Not the End of the World; Then Again, Maybe I Won't; Starring Sally J. Freedman as Herself
Suggested for ages: 8-12
This set includes: Sideways Stories from Wayside School, Wayside School is Falling Down, and Wayside School Gets A Little Stranger
Suggested for ages: 8-12
The Essential Kate DiCamillo Collection
The set includes: Because of Winn-Dixie, The Tiger Rising, The Tale of Despereaux, The Miraculous Journey of Edward Tulane, and The Magician's Elephant
Suggested for ages: 8-12
Special Edition Harry Potter Paperback Box Set
This set includes: Harry Potter books 1-7
Suggested for ages 8 and up
The Baby-Sittercs Club Graphix 1-4
This set includes: The Baby-Sitters Club Graphic Novels 1-4
Suggested for ages 8-12
Dork Diaries Squee-tastic Collection Books 1-10 (Hardcover Boxed Set)
This set includes:Dork Diaries #1: Tales from a Not-So-Fabulous Life, Dork Diaries #2: Tales from a Not-So-Popular Party Girl, Dork Diaries #3: Tales from a Not-So-Talented Pop Star, Dork Diaries #3 1/2: How to Dork Your Diary, Dork Diaries #4: Tales From a Not-So-Graceful Ice Princess, Dork Diaries #5: Tales from a Not-So-Smart Miss Know-It-All
Dork Diaries #6: Tales from a Not-So-Happy Heartbreaker, Dork Diaries #7: Tales from a Not-So-Glam TV Star, Dork Diaries #8: Tales from a Not-So-Happily Ever After, Dork Diaries #9: Tales from a Not-So-Dorky Drama Queen, and Dork Diaries #10: Tales from a Not-So-Perfect Pet Sitter
Suggested for ages: 9 and up
Percy Jackson and the Olympians Boxed Set (Books 1-5)
This set includes: Book 1: The Lightning Thief, Book 2: The Sea of Monsters, Book 3: The Titan's Curse, Book 4: The Battle of the Labyrinth, and Book 5: The Last Olympian
Suggested for ages: 9 and up
Smile and Sisters: The Box Set
This set includes: Smile, Sisters
Suggested for ages 9-12
The Chronicles of Narnia: The Lion, the Witch and the Wardrobe
This set includes: The Magician's Nephew, The Lion, the Witch and the Wardrobe, The Horse and His Boy, Prince Caspian, The Voyage of the Dawn Treader, The Silver Chair, and The Last Battle
Suggested for ages 9 and up
This set includes: Charlie and the Chocolate Factory and Charlie and the Great Glass Elevator
Suggested for ages: 13 and up